Backgammon 6rdx5pt
10.15am to 6pm (lunch break 1.30pm-2.15pm)
£15 (AM+PM; register for Double Session)
6 rounds where the winner of each round is the first to win 5 points (a doubling die is used)
Backgammon is one of the oldest board games for two players. The playing pieces are moved according to the roll of dice, and a player wins by removing all of his pieces from the board before his opponent. Backgammon is a member of the tables family, one of the oldest classes of board games in the world.Although luck is involved and factors into the outcome, strategy plays a more important role in the long run. With each roll of the dice, players must choose from numerous options for moving their checkers and anticipate possible counter-moves by the opponent. In variants that originate from early 20th century New York, players may raise the stakes during the game.
Settlers of Catan
10.15am to 6pm (lunch break 1.30pm-2.15pm)
£15 (AM+PM; register for Double Session)
Swiss pairings over 4 rounds with 4 players per table.
The Settlers of Catan is a multiplayer board game designed by Klaus Teuber and first published in 1995 in Germany by Franckh-Kosmos Verlag (Kosmos) as Die Siedler von Catan. Players assume the roles of settlers, each attempting to build and develop holdings while trading and acquiring resources. Players are rewarded points as their settlements grow; the first to reach a set number of points is the winner.
Victory Points are carried over from each round and the winner from each table gets an extra victory point. The gold medal can only come from the leading table during the final round.

Scrabble
10.15am to 6pm (lunch break 1.30pm-2.15pm)
£15 (AM+PM; register for Double Session)
Swiss pairings over 6 rounds. 25 minutes per player for each game.
Scrabble is a word game in which two to four players score points by placing tiles, each bearing a single letter, onto a gameboard which is divided into a 15×15 grid of squares. The tiles must form words which, in crossword fashion, flow left to right in rows or downwards in columns. The words must be defined in a standard dictionary. Specified reference works (e.g., the Official Club and Tournament Word List, the Official Scrabble Players Dictionary) provide a list of officially permissible words.

British Chess 960 Championship
10.15am to 6pm (lunch break 1.30pm-2.15pm)
£15 (AM+PM; register for Double Session)
Swiss pairings over 6 rounds. 25 minutes per player for each game, with a 5 second increment per move.
Chess960 (or Fischer Random Chess) is a variant of chess invented and advocated by former World Chess Champion Bobby Fischer, publicly announced on June 19, 1996 in Buenos Aires, Argentina. It employs the same board and pieces as standard chess; however, the starting position of the pieces on the players' home ranks is randomized. The random setup renders the prospect of obtaining an advantage through the memorization of opening lines impracticable, compelling players to rely on their talent and creativity.
Randomizing the main pieces had long been known as Shuffle Chess; however, Chess960 introduces restrictions on the randomization, "preserving the dynamic nature of the game by retaining bishops of opposite colours for each player and the right to castle for both sides", resulting in 960 unique starting positions.

Chess Blitz
7pm to 10:30pm
£10
5 minute time control with a 3 second increment per move.
Chess is a two-player strategy board game played on a chessboard, a checkered gameboard with 64 squares arranged in an eight-by-eight grid. It is one of the world's most popular games. The name "Chess" is derived from the Persian word "Shah", meaning a king or ruler. This word is also related to "check" and may even be cognate with the words Caesar, Kaiser and Czar, respectively denoting rulers in the Roman Empire, the German Empire and the Russian Empire.
Each player begins the game with 16 pieces: one king, one queen, two rooks, two knights, two bishops, and eight pawns. Each of the six piece types moves differently. Pieces are used to attack and capture the opponent's pieces, with the objective to 'checkmate' the opponent's king.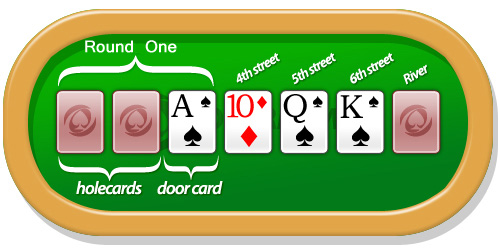 7 Card Stud
7pm to 10:30pm
£10
Seven-card stud is a variant of stud poker. Until the recent increase in popularity of Texas hold 'em, seven-card stud was the most popular poker variant in home games across the United States,[1] and in casinos in the eastern part of the country. Two cards dealt face down to each player, one card dealt face up (upcard) to each player, (Third Street),upcard to each player (Fourth Street),upcard to each player (Fifth Street), upcard to each player (Sixth Street), downcard to each player (Seventh Street), and finally a showdown.
Note that this event qualifies toward the Amateur Poker World Championship.

Memory World Cup
7pm to 10:30pm
£10
Competitors memorize as much information as possible within a given period of time. The challenges will include the following: One round of memorizing as many decks of cards as you want over 15 minutes with 10 minutes to write answers. Memorizing a base-10 sequence of numbers over 10 minutes with 5 minutes to write answers. Memorizing a sequence of binary digits over 20 minutes with 10 minutes to write answers. Memorizing historic dates over 10 minutes with 5 minutes to write responses (this will  be an ordered list of dates without any fictional event; e.g. September 24, 1977; October 5, 2008; July 12, 2052, etc…). Memorizing sequence of hexadecimal numbers over 10 minutes with 5 minutes to write the answer. Points are tallied until the first mistake in each section.

Oware
7pm to 10:30pm
£10
Oware is an abstract strategy game among the bigger Mancala family of board games (or Pit and Pebbles Games) played all over the world with slight variations across different societies with regard to distribution area, number of players and strategy of play. It is played throughout West Africa and the Caribbean. Among its many names are Ayò (Yoruba), Awalé (Côte d'Ivoire), Wari (Mali), Ouri, Ouril or Uril (Cape Verde), Warri (Caribbean), Wali (Dagbani), Adji (Ewe), Nchọ (Igbo) and Awélé (Ga). A common name in English is Awari but one of the earliest Western scholars to study the game, R.S. Rattray, used the name Wari.
The game starts with 4 seeds in each house. The object of the game is to capture more seeds than one's opponent. Since the game has only 48 seeds, capturing 25 is sufficient to accomplish this. Since there is an even number of seeds, it is possible for the game to end in a draw, where each player has captured 24.

Dominion
7pm to 10:30pm
£10
5 Rounds with 20 minutes per player.
Dominion is a deck-building game created by Donald X. Vaccarino. Each player uses a separate deck of cards to which only he or she has access; players draw their hands from their own decks, not others'. During turns, players use their cards to perform various actions and purchase cards from a common pool of card stacks available to all players, including those that give them more actions, coins to purchase cards, and victory cards that are otherwise valueless during the game. At the end of the game, defined when certain common stacks are exhausted, the player with the highest number of victory points wins. The game has a light medieval theme, with card names that reference pre-industrial, monarchical, and feudal social structures.